If you are a couple living together, married or not, you must know by now that it's hard to keep the flame alive. With stressful jobs, school and children- you just can't seem to find time for romance like before. Well, that's why I am here today!
You don't need to do a lot to have romance in your relationship, you just have to make sure to surround yourself with it… Something like "Our bedroom is our love temple". So here are 7 things you can do to make your bedroom more romantic!
1 – Make sure the lighting is controlled from the bed
You know that moment… When you're in bed, and everything goes int he right direction… Then you go turn off the lights and you are back to bed- looking at him checking his cellphone! That's why you need a light switch next to the bed, or a standing bedside lamp, or a boyfriend that is not addicted to Facebook!
2 – Full blackout curtains
Mandatory- for those days you just want to stay in bed and not have the sun light wake you up!
3 – Get adorable picture frames
And spread them around the room, on the wall or on the table!
Here are few cute frames I saw on Ali Express: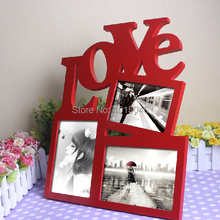 4 – Take the TV out of your room
It might seem harsh at the beginning, like- what are we gonna do with no TV?
I don't know… Sex? Talk? Hug? As long as it's together!
5 – Sleep under the stars
A camping trip under the big wide skies is one of the most romantic things ever. However, if you don't have time to go camping- bring the beautiful stars of the night to your bedroom!
Wall Crafters Etsy store is selling the most unique star-stickers for you to use to decorate your walls or your ceiling with. These vinyl stickers glow in the dark and would make a great addition for your bedroom, or for your kid's room- if they're afraid of the dark.
Click on the image to see more from this seller:
6 – Candles!
It might sound a bit corny, but IKEA candles are the best! Scented, last long, and look simple and clean. Plus- they're a very cheap addition to increase your romance!
7 – Romantic bed covers
Going into a room with lovely and romantic bedsheets does half the trick, trust me on that. So, to wrap things up, here are few cool bedsheets you can purchase worldwide with Ali Express: