If you want to turn a house into a true HOME there are some things that can help you! The Women Team decided to search the web for the coolest solutions online to make your house more HOMY! Let's start!
The first way to make a house feel like home is by finding the proper carpet to place at the front of your door… Here are some cool and awesome ideas: (simply click on the image to see more about each carpet)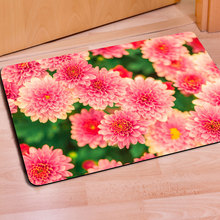 The second thing you could do to make your house feel more like a home is to get some wall stickers with special mantras that will make you feel happy:


You could also try to get something extra special to make sure your family photos will be displayed in a special way! I found an Etsy store that makes the most amazing family-pictures-sign from reclaimed wood! So you'd be spoiling your family while supporting both the environment and a family business called Quinns Homemade Crafts… The sign is handmade to perfection, and there's only 1 available so hurry up! You could also go to their store and see more amazing handmade items, but for now, just see how beautiful this sign is:
So, what makes you feel the most at home?