Hey there mamas, thanks for joining me for another post about the cool things you could purchase online for your little ones!
If you are looking for good toys and stuffed animals online- the variety is huge! You could get so many amazing and unique toys online, delivered from all over the world… These toys will probably not be available to your kids in a local mart- so tune in and let's start!
Trucks and Cars
In an age where every kid only cares about iPhones and computer games, having the right toys in the house can make a difference. Though it is true that there are educational online games for kids and toddlers, nothing will ever replace the imagination and creativity learned from playing with cars and trucks.
From cars who race each other, to trucks who need fixing, from cars from famous TV shows and moves, to fire trucks- there is so much your kids could learn from playing with these non-tech toys!
Stuffed Animals
Stuffed animals are a hit that will never go away, cause even the coolest computer or cellular game would not replace a lovely stuffed animal hugging your little ones all night. For that special something I turned to Etsy and located this Etsy seller- selling the most unique handmade stuffed animals you could find. The name of this Etsy store is Danielle's Made For You. In her store, Danielle Legg is selling toddler and baby products for all childhood ages. My favourite item from her store was this stuffed unicorn:
Teeth-Growing Toys
If you are looking for something your babies could enjoy and actually benefit from- chew toys for kids is one of the best things you can purchase! Designed for that phase of growing when kids chew on everything and you need to provide them with something healthy enough to chew on. Make sure to purchase only products that are not harmful for kids and don't deteriorate after several uses!

Puzzles for Kids
If you want to make sure your children will develop great cognitive skills- puzzles are the best way to go! Kids puzzles must be 3 things:
1- Easy to solve
2- Contain large pieces for them not to swallow
3- Be interesting for the kid to want to solve them!
Here are a few things I found on Ali Express that match all three: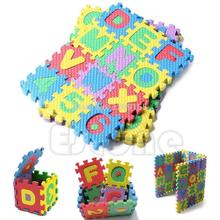 Have fun online shopping for kids' toys!